Story of a woman enjoying sensual self-pleasure
Her side of the bed is empty. He must have left early. The smell of our love still lingers on the laundry, and I lay languidly remembering last night. I let my fingers slide up to my neck, drawing the line where he was biting softly, right behind my ear, down my jaw, then up to my lips.
I smile as I taste the tips of my fingers and a thought comes to my mind.
I'm going to seduce myself this morning.
My body rises as desire begins to tingle through my erogenous zones. The blankets and pillows warmed by my body give off the delicious scent of lavender mixed with our lovemaking. I pull the sheets over my chest, savoring the way they slide gently over my nipples and I tease myself by closing my arms at my sides and touching only my neck and my cleavage. I imagine that it is his touch which crosses my sensitive skin, playing with the tiny hairs behind my ear sending tingles of pleasure on the side of my neck.
I slowly push the comforter to reveal my tightening breasts. He likes my breasts. He is a master of the nipple game, and I think back to the time when he almost made me orgasm by stroking myself. He had stopped just to the point where I thought I would fall into happiness, saving him for another time, he said. I had been momentarily angry at being bypassed like this, but he had compensated several times with other means. I would however like to experience a nipplegasm. I know women who can come from just having theirs between their thumbs and forefingers. Now, that would be handy when you feel aroused in inappropriate places, right? Just imagine being able to slide your hand up your blouse and discreetly have a good time at the supermarket or the office. I'll be there all day. I sigh and run my hands over my naked flesh, taking the time to savor the trip on my chest. I cut each breast, loving the way the flesh packs and lifts in my hands, responding to my touch.
I can't help rolling my nipples to see if it works and I am delighted when sparks of electricity pass through my body. I wonder if it is a learned skill. I am certainly ready to be a dedicated student. Another setting and feeling comes back to that divine point at my hairline and up to my shoulder. I love how connected the erogenous zones of our body are. He knows it all too well.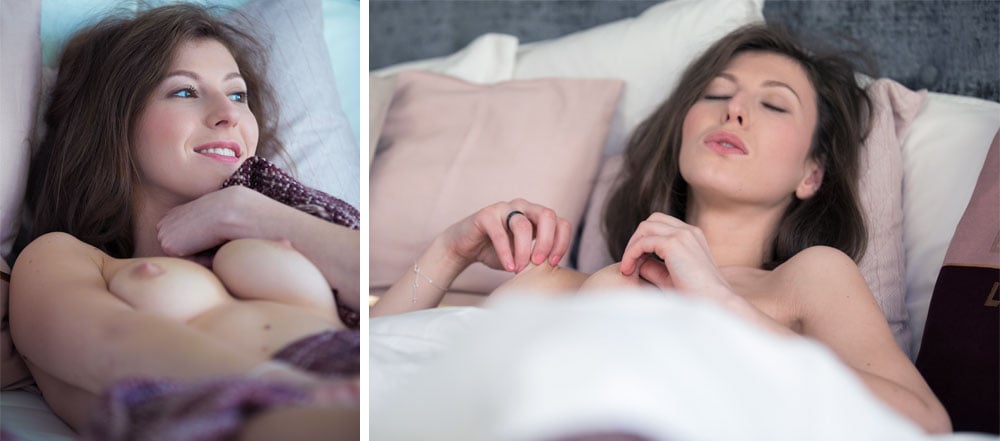 Oh, that point on my shoulder, I like to have snacked, and he knows it. I wet my finger and drag it, pretending it's the tip of his tongue, licking and tasting my favorite places. The sensations pull me in all directions, I can barely follow where they are going next. My attention is drawn to my breasts, my chest rising to meet my touch.
I've given permission to indulge in every part of myself, and I almost have to slow down, but I'm hungry for myself. In fact, I am ravenous for myself. I smooth my palms and savor my curves going down along my body, passing the gentle plunge and the swell from my belly to my mound. I love the change between soft and hard under my skin. The bone of my pudenda showing resistance and anchoring my gourmet touch. My hips twist and I dip both hands between my thighs under the covers, savoring the sound of the lush comforter as it collapses in my body. This sound that makes my mouth water – the same reaction I get when walking on fresh white snow. The tightening and compression as my foot sinks into the yielding ground. Something so sensual and earthy about these sounds. They intertwine and enhance the experience. I have always invested in the best linen possible – goose down comforters with Egyptian cotton sheets and covers. It's almost a fetish, wrapped in bran and blankets. I crumple it again, letting the noises reverberate in emotions all around and through me.
I'm hot, suddenly trapped by the covers, I push them away. The fresh air instantly refreshes me, and I drag my leg up over the bundled fabric enjoying the pose.
I love exploring my body, touching, arching, enjoying my private time and worshiping through this self-seduction. It's strange, but in a way, I don't feel alone, its essence is all around me, inside of me… I admire the lines on my side and from my hip as it could, letting my gaze go down to the tip of my toe … then go back to the spread of my pussy as I open my thighs wide.
It's so gross to be on display like this and I'm lucky enough to have a look at the bare windows, but it doesn't matter if anyone is watching . I'm so caught up in my own sex appeal that I'm lost to the world. My pussy wants more. I'm wet and smooth with desire, but I want to give myself an extra silky treat and reach the lube on the bedside table.
I can't help but smile as I open the lid, the cracking noise sending thrills of excitement through me as I tip the tube and press liquid on my fingertips . There is something so nasty about squeezing the lubricant, the squeak and the muffler while it oozes from the bottle, there is only one thing it can mean. Sex. All sex.
The anticipation for the first contact is too much, and I can't wait any longer. I slide my liquid-cooled fingers to my pussy, spreading my lips while grabbing my nipple and kneading my chest. I stick two fingers inside, it's so good and it makes me gasp at the cold fingers that enter the oven of my pussy. My pelvis rushes upward to meet my touch, and I ride my hands with a flinch and flap as my own juices mix and heat the lubricant.
My excitement is mounting so fast that I could already come. I slow down and calm down, touching my neck and sighing. Try to make it last as long as possible. I think back to last night and how he continued to take me to the brink of orgasm and then to hold me back. I liked it. It certainly made my climax quite breathtaking when it finally arrived. By the time I had emptied my juice on his cock, his hands and his face, we could have filled this bottle with lubricant several times. I smile at the memory and I feel a redness rising on my cheeks, and I start to rub harder, round and round, caressing my whole vulva then pushing back inside.
My own moans startle me and it turns me on. Ah, the sweet sounds of sex. I usually masturbate in silence, but I start to hear my body's responses. The lubricant makes squelchy noises, and I think of his cock that slides hard and fucks me. I close my eyes and listen carefully, holding my pussy with two hands and fucking myself hard. The sounds are so unpleasant, knowing that it's me alone who makes them is incredibly warm. I push fingers of each hand into my welcome hole. It's so hot to hear the wet sounds of my pussy. The first wave of my orgasm builds up, and I rub faster, harder, holding my pussy while the juice flows from me, back and forth I fuck faster, it seems too lustful and gross. I am on the brink and with all the will I have, I stop.
This flash of frustration that I had with him last night was ablaze and for a moment I was furious. But it is a glorious fury. My mind and body are momentarily separated, and I ask him to trust me, it will be worth the wait. My eyes close and a hot flash draws perspiration to my forehead and my breasts. This is another stimulus that I savor. I am completely and completely enveloped in my sexual responses. It is a thing of wonder and fascination. I never took the time alone this way – taking note of each reaction, separating them from cause and effect.
I am my own sex science experience. I wonder how many times he has fun this way. I'm brought back in the moment with this thought, and the wet, slippery noises of fucking make me go up and up again. Oh, damn yes, yes, I don't know if I think or if I say it out loud but it goes perfectly with my desire, and I groan. I rub my clitoris and pierce my pussy with two hard fingers. I really fuck myself as hard as he fucked me last night, I have a good purchase on my mound, and even though I never called it that, I did ; really feel like I'm jerking off or jerking off as I could. It's hard and raw, and I can't get enough of it.
My hands sink over and over, crushing and sucking, pulling me out of the physical and into the realm of impending climax. I think of his cock in my pussy, my fist, my mouth, my ass and my tightly wrapped body ready for release. I imagine that seven of them make their way inside as best they can. I stretch and use myself for their pleasure while I stay soft and soaked between them, all shaken from wave to wave of orgasm. How much could I take? Her sex is pretty big, but in this frenzy of fucking, I think I could take them all. Open up to whatever they can give. Watching their backs to the mirrored walls to see their bottoms tighten as they rushed into me. Oh yes, I can feel it. Stuff my mouth full of tails and fingers. I would spray my cream on them, surpassing them all in strength and volume.
My heart is pounding now, and I'm taller than I have ever been. My mind takes me to places that excite me and scandalize me. I am again tempted to spin, but hanging on the silent edge, hanging on the crest, my animal fury carries it away and I tighten myself tightly around my hands. My pussy greedily swallows them, and I pushed five times more frantically hard and fast. The sounds of my pussy and my mouth combine and my body shrinks in happiness. I could almost break in half as the crescendo relaxes and crushes my body on earth and while I am son in this orgasmic space.
What just happened?
I sit still, my eyes still closed, letting my body slow down and calm down on my own, trying not to let my mind wander into the territory of guilt. Try to let the waves of oxytocin kiss me and hold me at this time. Doubt creeping around the edges is banished, and I stretch, releasing the grip on my mound, giving my vulva a little massage. Then a beautiful euphoria begins to rise in me. Oh, how I like that glow. I ride the wave of happiness and caress my body with my wet fingers leaving silver streaks of pleasure on my sensitive skin. I can't stop touching myself and plunging my hands one last time before I stretch out and savor the beautiful connection I just had.
Oh, if we could bottle these sensations, just think of what world we would live in. So beautiful, so peaceful, so free. I don't want to go down yet, I want to be locked in this cocoon of rapture forever.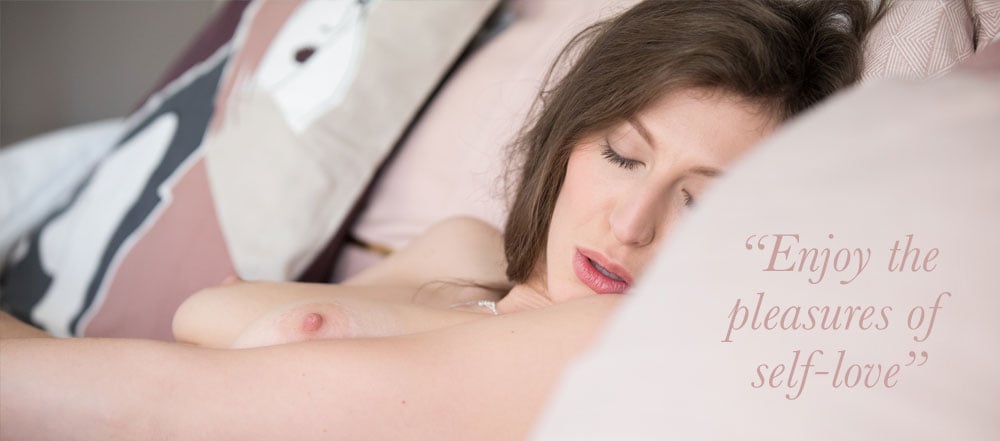 I snuggle up in the oversized feather pillows and find her brown scarf. I draw her to my face, breathing in her scent and bring the heavy comforter over me. How decadent and delicious. The soft puckering of the quilt that slides and creaks in its cotton cover fills me with satisfaction. My mouth has water again but it is not sexual this time, it is a real and deep joy. Contentment is the word. If there is a sound I wish I could make now, it purrs. I feel like it would be the perfect end of my solo adventure. As at the right time, a ray of sunshine crosses the window and goes directly to the bed. I curl up, absorbing even more power and enclosing it in my soul.
I think how wonderful the human body and mind are. Maybe we are not paying enough attention to ourselves in a way of sexual energy. It's almost like the magic of sex. I'm sure we could all enjoy life a little more if we took the time to connect this way. Without shame and proud of what we can accomplish.
A perfect unity of mind, body and soul. Everything in us.
I start to doze in the sun, my ruminations plunging me more deeply into my orgasmic theories.
My hands come down gently between my legs, and I fold in on myself, wondering if I have the energy for another lazy highlight but my body is tired and I feel quite weak. Too bad, the places my mind took me, fractals of cocks and pussies and breasts and donkeys, as I drift in and out of a dream. I'm excited and excited but too exhausted to do anything.
I hear a click on the door handle and I am suddenly surprised. I grab the comforter to cover my nudity and hold my breath as a key turns in the lock.
Although my heart is pounding against my chest, I know it is him, and I lie down, trying to settle in while being hyper-aware of every sound it makes then that he walks in the house up to the bedroom.
Finally, he reaches the door and opens it.
"Hello, hello," he said, a dancing smile all over his face, lighting up his eyes, "what's going on then?" He pulls on his tie and unbutton his shirt as he walks toward the bed. I can already see his fledgling erection through his pants, and I throw the comforter off as he dives toward me.
"Why did you come back so early?" I whisper in his hair as he devours my neck with his teeth and lips making me squirm and squirm in renewed pleasure.
"I decided that I should enjoy life a little more, so I dodged early." He looks up and shows me his beautiful smile again. "It looks like I was not the only one …"
He laughs softly and gets rid of the rest of his clothes before joining me under the duvet, tube of lubricant in hand.